What Are Hosted VoIP Phone Systems?
Hosted VoIP phone systems, also known as hosted PBX, provide the functionality of traditional phone systems without the need to buy pricey equipment, such as servers. Instead, your office phone system is hosted by a VoIP service provider.
First, your calls are received by hosted servers. Then, the calls are routed according to your needs. This flexibility saves your company money on equipment and telephone service.
What Virtual Phone Systems Can Do For Your Business
Grow and Change at Your Own Pace
Moving is a walk in the park. Whether your business is moving or you are just moving to a new desk, the process is much simpler. Since most hosted VoIP phone systems are plug and play, it is much easier to move phones to a new location.
Add and remove phones as you need them. Cloud based business phone systems are fast and easy to scale, meaning you can add or decrease service as your business needs evolve.
Eliminate Equipment Costs
All you need is a VoIP telephone. There is no PBX system (server) or equipment to purchase. This can save your company thousands of dollars in communications costs. Monthly costs to maintain a standard phone system can cost you as much as your total fees for hosted service, too.
Fire Your Phone Company
VoIP phones plug into your internal network, using your internet connection to send and receive calls. This allows you to completely transition from outdated and overpriced telephone service providers. Then, hosted VoIP phone systems can save even more money with low cost, flat rate calling.
Save A Customer – Save Your Business
When comparing true hosted VoIP phone systems to cable or phone company services, it all boils down to saving a customer.
Call recording can save your customers and grow your business.
Few companies can afford to lose business, but that is exactly what happens when calls are handled poorly. Call coaching tools, such as listen-in, barge-in and recording ensure all sales and service calls are handled properly 100% of the time. Call logs are saved for account admins, to play online or download and store.
Integration can save a sale.
We can route calls anywhere, so when your customer is ready, they can reach you in a single phone call. This allows mobility using one phone number. These are known as "find me, follow me" services. We can also connect your systems to allow access to calls from all your locations.
Reliability is important to customers, too.
If your premise based phone system goes down, you could lose hours of calls. Hosted VoIP phone systems are housed in separate facilities with backup power, air, and security to keep your system up and running if disaster strikes. Your calls can be rerouted if your local internet service goes down, so your customers will have no idea your system was down.
Office Phone Systems for Small Business
Whether you run a home based business or are simply working from home, hosted VoIP systems are a valuable tool.
Small Office Phone Systems
A good VoIP company can benefit a small business as much as a large multi site business.
Home Based Business Phones
A hosted phone service is perfect for single employee and home based businesses. They allow you to take calls in a professional way and save your business money, which is a win-win.
Home Office Phones
Stay connected to the office while working from home. If you choose to add a VoIP phone at home, you can use the same features, settings and connectivity as your office phone. This is a useful tool for sales people or on call support staff.
One of the perks of using a hosted VoIP PBX system for business is the plethora of features. VoiceSpring cloud hosted business phone systems include all of the features available on your hosted VoIP phones. We like to keep things simple, so we've broken down the list of features we offer into 4 categories:
Features of Hosted VoIP Phone Systems
Customized Automated Call Handling
Auto Attendant
The automated attendant is a virtual answering position. Your "virtual assistant" answers and routes calls to departments, employees and other destinations 24 hours a day.
Dial by Name Directory
Dial by name is a feature of auto attendant which enables your callers to reach specific extension destinations by spelling the name of the person they wish to reach using the alphanumeric buttons on their keypad.
Automatic Call Distribution (ACD)
ACD efficiently distributes incoming calls among a designated group of extensions or agents, so every call gets answered. It also divides calls equally among employees, which boosts productivity. Incoming calls are answered in the order of arrival, then presented to the next available agent.
Night Mode
The night mode redirects calls which come in after business hours to predefined night phone numbers. Send calls to auto attendant, an answering service, or another destination. Set this feature to turn on automatically at closing time or turned on manually each night.
Hold Music & Custom Recordings
Using music on hold is a courteous way to keep customers engaged while they wait. Record and play custom messages, instructions, or ads in between.
Hunt Group
Also known as a call group, this feature distributes an inbound call to a pool of destinations until the call is answered. Extensions that belong to a hunt group can also be arranged into escalating "stages." Then, each stage rings its member extensions for a preset time period before escalating the call to the next stage.
Interactive Voice Response (IVR)
The IVR allows you to create a custom menu, so callers to access important information about your company around the clock. These menus may include interactive prompts, such as information about your business, store directions, product descriptions, and more.
Unified Communications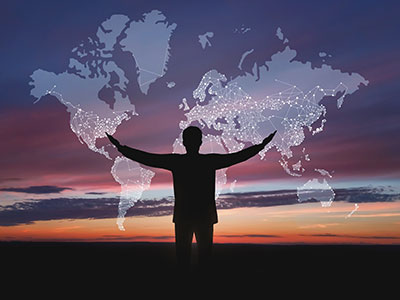 Busy Lamp Field (BLF)
The busy lamp field feature visually indicates the status of other extensions on your cloud PBX, so you can see who is available before you transfer a call. A colored icon shows whether other users are busy, idle, or have their phone set to do not disturb.
Call Park
"Park orbits," allow users to place calls on hold, so they can be retrieved by another extension on your hosted VoIP system.
Call Transfer
This feature allows you to transfer a call to other extensions and destinations. It can be used in two modes:
Attended Transfer Mode allows you to speak in conference mode first, so you can introduce the caller before you complete the transfer.
Blind Transfer Mode is used to transfer the call without first speaking to the destination.
Call Forwarding
Redirect calls to any destination phone number. Various call forwarding methods are also available.
Call Coaching Tools for Sales & Training
Call Barge In
Barge-in allows authorized users to join a call in progress between two other parties. It establishes a three-way conference call between the parties.
Call Teach
Also known as a "whisper," this feature allows an authorized user to join a call in progress with only one party knowing. This is a great tool for teaching new employees how to handle calls, so your customers receive the best customer service.
Call Listen In
This feature allows authorized users to sit in on a call in progress without the other parties' knowledge.
Call Logs
Call Detail Records (CDR) provide detailed information about each inbound and outbound call. View the time, date, and duration of each call, as well as the caller ID and the recipient.
Call Recording
Record telephone calls and create an audio file. Choose to initiate recording selectively on-demand or automatically for all calls. Search, listen to, manage, and share recording in your web-based user portal.
Call Tagging
Use the call tagging tool to assign and identify incoming calls to any of your business numbers. Tags visually distinguish incoming calls to various departments, business units, functions, and more.
Outbound Caller ID
Choose the phone number to show on caller ID when placing an outbound call. This is typically your company's primary listed directory number, but can also be a DID or other alternate number assigned to your account.
Business On The Go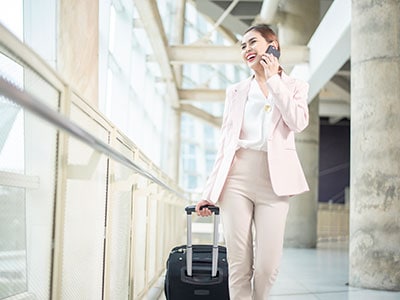 Hosted VoIP User Portal
Our secure, online portal provides access to voicemail messages, call recordings, and feature management, such as call redirection, cell phone alerts, contacts, conferences, extension monitoring, call history and button behavior.
Conferencing
The built-in voice conference feature provides a convenient way to schedule multi-party conferences, so you can send email invitations to participants with the click of a button.
Cell Phone Integration
Extensive cell phone support allows your cell phone to be your primary extension or an alternate of your wired telephone extension.
Email Notification
Receive email notification of new voicemail messages, conference appointment reminders, and missed telephone calls.
Voicemail to Email
Send your voicemail messages to your email inbox as a .wav file attachment, so you can listen to later.
Paging
Broadcast one-way announcements over your hosted VoIP phones' built-in speakers. Send pages to a specific group of extensions, to all extensions and, with the help of a SIP paging adapter, to external amplifiers and speakers.
Choosing a Hosted VoIP Phone System Provider
Not all business VoIP providers are created equal. VoIP solutions should save you money and improve the way your company communicates, but there is more to consider as well. These things may be important to you when making your decision:
Experience
VoIP is still a relatively new industry. The length of time a company has been around can impact the quality of their products and service. A great business gets that way over time, often with some trial and error. As with all technology, it's better to let someone else work out the kinks, especially when it's your business on the line.
Price and Value
Though they may be similar, the two are not the same. Before you seek a business VoIP provider, it may help to decide which one takes priority. Do you want the lowest price or the best bang for your buck?
Quality
Of course, nothing else matters if your new system doesn't work well. Service stats like uptime and call clarity can affect both your customers and staff. Customer reviews are a great way to assess the type of service you will get once the shine of a new prospect wears off.
Local and Long Distance Calling
Generally included free of charge. International rates are usually much less as well.
VoIP System Features
Decide which features are important to your business. Make sure those features are offered and find out if it costs extra to use them.
Customer Service and Support
Availability and quality are both important to the success of your hosted VoIP phone system. If your system breaks, how long will it take to get back on your feet? You need your provider to be there for you, so you can be there for your customers.
Ease of Setup and Transition
New business phones are a big step for any company. If most of your employees are tech savvy millennials, this may not be a huge deal for you. How easy will it be for your staff to adopt the new system?
Trust the Experts in VoIP Phone Systems for Business
Choosing a VoIP phone service provider is an important step for your business. Take your time, research your options and ask a lot of questions. Of course, VoiceSpring specialists are happy to help. If you have questions or would like more information on hosted VoIP phone systems, please contact us online, call (866) 654-1800 or email info@voicespring.net.